Install Adblock Plus 1.7.3 for Chrome
Install Adblock Plus 1.7.3 for Opera (Opera 17 or higher required)
This release fixes pop-up blocking that was broken in the previous release. It also addresses a long standing issue, the size of the "Block element" dialog wasn't always set correctly.

Install Adblock Plus 1.7.2 for Chrome
Install Adblock Plus 1.7.2 for Opera (Opera 17 or higher required)
The previous release introduced issues with some old Chrome versions (reported for Chrome 24 and 25), element hiding wouldn't work there. These have now been fixed. Also, the download size has been reduced again.

Install Adblock Plus 1.7 for Chrome
Install Adblock Plus 1.7 for Opera (Opera 17 or higher required)
This release includes significant changes to the icon and the icon popup. It is the next step in redesigning the entire UI after releasing new versions of our first-run page on all platforms earlier this year.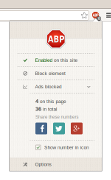 The redesigned popup allows us to seamlessly integrate features such as the blocked ads counter and the emergency notifications. Users who want to hide the icon can now right-click on it and hide it from there which is why we removed the related option from the Options page. The icon can be brought back on the browser's Extensions page.
Changes in detail
Icon popup has been redesigned.
Extension icon has been improved and relocated from the address bar to the browser toolbar.
The number of blocked elements on the current page can be displayed in the icon now.
Simplified selecting element to block on some websites, if the element selected cannot be blocked its parent container will be selected instead.
Selection of element to block now reacts to Enter and Esc hotkeys (select element and cancel selection respectively).
Fixed: Selecting element to block didn't prevent links from being followed.
Fixed: Elements would sometimes be stuck with wrong background color after "Block element" menu item was used and canceled.

Install Adblock Plus 1.6.2 for Opera (Opera 17 or higher required). Please note that it might take some time until the new version is reviewed an actually becomes available.
This release fixes an issue with size limitations for data storage in Opera, after a while filter changes would no longer be saved. With this release Adblock Plus for Opera uses the same data storage approach as Adblock Plus for Chrome. Note that this won't work in Opera 15, a more recent Opera version is required.
There will be no corresponding Adblock Plus for Chrome release, this change is irrelevant for Chrome users.

Install Adblock Plus 1.6.1 for Chrome
Install Adblock Plus 1.6.1 for Opera (Opera 15 or higher required)
Common changes
Some missing translations for the first-run page are now included.
Fixed: Data corruption warning was showing up for the initial installation.
Opera-only changes
Pop-up blocking has been enabled, current Opera versions now have the necessary functionality.
Fixed: First-run page sometimes didn't show up (worked around a bug that Opera apparently ported from Presto to Chromium).

Install Adblock Plus 1.5.5 for Chrome
Install Adblock Plus 1.5.5 for Opera
This release implements a partial work-around for Chromium bug 281711. This bug prevented Adblock Plus from blocking ads on pages that were opened from Flash (e.g. when people clicked the YouTube link inside a YouTube video).

Install Adblock Plus 1.5.4 for Chrome
Install Adblock Plus 1.5.4 for Opera
This emergency release fixes a serious bug that caused opting out of acceptable ads to be reverted. Other changes in this release are:
Fixed localization issue breaking extension for Danish users.
Fixed localization issues resulting in broken links on the Options page.
Updated punycode library.

What happened?
Adblock Plus for Chrome and Opera releases starting with version 1.5.1 had a very bad bug: acceptable ads were enabled on update, even for users who previously opted out. This issue is fixed in the Adblock Plus 1.5.4 release but the damage is already done — there is no way to distinguish users who opted out and had acceptable ads re-enabled on update from those who didn't opt out.
What should somebody who opted out previously do now?
If you use Adblock Plus for Chrome or Opera and unchecked "Allow some non-intrusive advertising" previously then chances are that it is checked again now. You will have to go into Adblock Plus options and uncheck it again. Unfortunately, this issue cannot be repaired automatically. We are really sorry about that.

Install Adblock Plus 1.4.1 for Chrome
Install Adblock Plus 1.4.1 for Opera
The news on the first Opera release based on Chromium is making the round. So we've released Adblock Plus 1.4.1 for both Chrome and Opera (Opera 15 and higher required). Note that the builds for Chrome and Opera are not identical, at the moment Opera isn't fully compatible to Chrome extensions. The differences are:
Pop-up blocking feature doesn't work (webNavigation

API

isn't available).
Filters data is being stored in LocalStorage because FileSystem

API

isn't functional.
The

ABP

icon doesn't have a right-click menu (Opera's user interface currently differs from Chrome here).
Argentinian Spanish locale is missing due to issues on addons.opera.com.
Other than that the Opera version is on par with Adblock Plus for Chrome. We hope that the issues in Opera will soon be resolved.
The changes in Chrome compared to the previous release are only minor at this point. In addition to some internal improvements we fixed a bug with click-and-hide not treading scheme-relative URLs correctly.

Install Adblock Plus for Opera
Note: In order to install from our website you have to add https://adblockplus.org to the list of trusted websites in Opera. This will no longer be necessary once the update is approved on the Opera Add-ons site.
Also note: Opera has changed the version to 1.3.4 on the add-ons site, but we'll keep referring to this version as 1.3.3.
This release fixes issues that made ad blocking not work at all for some users. It wasn't easy to reproduce, but having many extensions installed made it more likely to break. The problem was that Opera began to handle timeout events before loading all scripts, something we haven't experienced with other browsers. This caused initialization errors under certain conditions.
If ad blocking still doesn't work for you after installing this update, please report a bug.