We would like to say thank you for all of the ideas and positive feedback in our comments section. We're truly grateful for our community of users. If you have any help questions about this topic, please reach out to our Support team at support@adblockplus.org. We're here to help!
Update: We wanted to take a moment to update our users about ad blocking on YouTube. Our focus is to continue to invest in new, technical ways to block the same ads we always have. And that means we are looking for a long term solution that keeps users in control over their internet experience.
We have always believed in a fair internet for all — one that balances the needs of users, publishers and advertisers. Now more than ever it's important to work for a fair, user-centric internet. And we hope with open conversation, we'll be able to pave the way for users to enjoy a web without intrusive advertising.
Most of all, we wanted to say thank you to our users. Your support and understanding as we navigate (and continue to navigate) an ever-evolving web means so much to us. We wouldn't be where we are today without all of you!
—-
If you use YouTube, then you know it's chock full of ads. These ads distract from the content you actually want to watch as they play before your chosen video starts. Even more distracting is when they play right in the middle of what you're watching! That's why so many internet users have turned to Adblock Plus for an ad-free YouTube experience. We've successfully been blocking YouTube ads for years. What's changed?
It seems YouTube is experimenting with its ad blocking policy. The site is now showing some of our users an anti-ad blocking wall, forcing them to disable Adblock Plus in order to view any content. Sometimes this wall asks you to allow YouTube ads after three videos and other times it's a hard wall that won't let you play anything until Adblock Plus is turned off.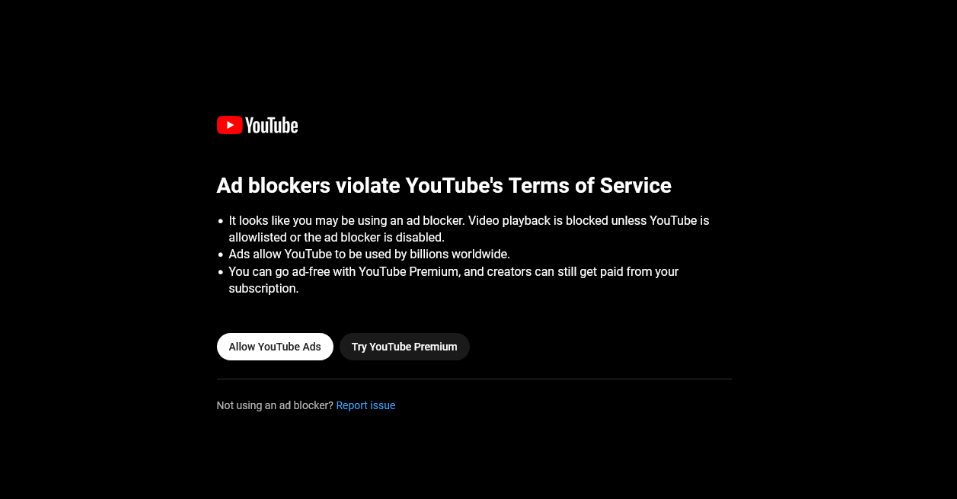 YouTube's hard anti-ad blocking wall
Anti-ad block walls have long been an issue for all ad blockers, not just ours. While we do believe that content providers should have the right to decide how you interact with their page (or opt not to, if you choose to bring your web traffic elsewhere), we know YouTube's walls are particularly distressing to many of our users.
We also know that part of what makes Adblock Plus valuable to our users is that we block YouTube ads. While the situation is still evolving, our teams are working hard to figure out what we can do to continue offering a superior user experience.
What Can You Do About YouTube Ads in the Meantime?
If you see YouTube's anti-ad block wall
, we recommend:
The bottom line is we know how important it is for our users to access an ad-free YouTube experience for free. And we are working on various fronts to find the best solution! If you have any questions for our team, you can reach out to us at
support@adblockplus.org
.

Commenting is closed for this article.