Since we ported Adblock Plus to Chrome, we promised our users feature-parity with Adblock Plus for Firefox. While we are still not there, the probably most significant feature that has been missing on Chrome for a long time – but not anymore – is a way to view blockable items/requests along with applied filters.
For Chrome and Opera, we decided to implement "blockable items" as a developer tools panel (issue 154). Being a tool for advanced users, filter list authors and our own developers, we think that it belongs there. And integrating it with the developer tools gives a nice user experience.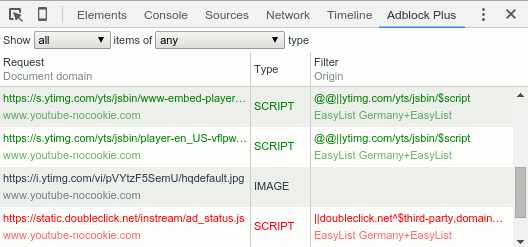 The developer tools panel is now available in the development builds as of Adblock Plus 1.10.1.1543 for Chrome and Opera, and will be included in the next release, Adblock Plus 1.11. In order to use the developer tools panel, inspect the current page (Ctrl + Shift + I) and click on the "Adblock Plus" panel. Unfortunately, Chrome currently doesn't provide a way to open the developer tools panel programmatically, e.g. from our icon menu.
Also as opposed to "blockable items" on Firefox, we don't record items in advance, to avoid performance penalties and additional memory usage while not using the developer tools panel. Therefore you have to (re)load the page, with the panel open, to see all items.
The items shown in the developer tools panel include:
Web requests as seen by Adblock Plus. Blocked/Whitelisted requests are indicated red/green, with the responsible filter given in the right column. When moving the mouse over a request item, buttons – to block or whitelist the request – appear.
Element hiding filters that match and hide any element on the current page. However, since Chrome doesn't provide a way to detect actual element hiding hits, these items are simulated by observing the document for hidden elements that match the selector of any active element hiding filter, which might not give completely accurate results in rare situations.
Document-based whitelisting including DOCUMENT, ELEMHIDE,

GENERICBLOCK

and

GENERICHIDE

exception rules, that apply for any document on the current page. Note that if a DOCUMENT exception rule applies, there won't show any further items – as it pretty much disables Adblock Plus – for that document.

Commenting is closed for this article.