As Firefox fans and users know, Firefox will release version 57 later in November. The new version of the browser will only allow add-ons that are compatible with the WebExtensions API, so the Adblock Plus development team has already been busy getting our award-winning add-on ready.
Today, we've released Adblock Plus 3.0 for Firefox, our first Firefox release based on Firefox's new WebExtensions rules.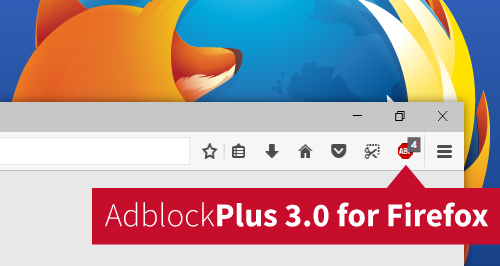 Aside from all the things under the hood, you will immediately notice a few differences in the new ABP for Firefox. First and foremost, it will just look different; those who also use ABP for Chrome or Opera will notice some aesthetic similarities, for sure. Otherwise, you'll probably pick out the following:
A new Adblock Plus icon: Our icon now works the same as it does for Chrome users. Specifically, this means that a counter will display the number of blocked requests, so users know more quickly what's going on in the background and how many ads are being blocked. The more detailed statistics previously displayed in the icon's tooltip are gone. The icon will open the bubble UI, same as in Chrome.
A similar-looking issue reporter: We added an issue reporter to this release, so this feature, which was part of the previous

ABP

for Firefox, wouldn't go missing. Using it is also very similar to the old one. Right now we're not able to collect as many issues as before, but we'll improve that in subsequent releases.
Adblock Plus worked hard to release our 3.0 browser extension for Firefox early because all Firefox add-ons have to convert to the new WebExtensions API by the time Mozilla releases Firefox 57 later in the month. This is not even to mention those already running the development build of 57, on which the old extensions API does not work. Given that, there will be a few features that longtime Adblock Plus for Firefox users will miss in the new release. Rest assured that we're working as hard as we can to bring as many features as possible to ABP using the new WebExtensions API for Firefox.
Cheers to all the Firefox development going on right now!

Commenting is closed for this article.