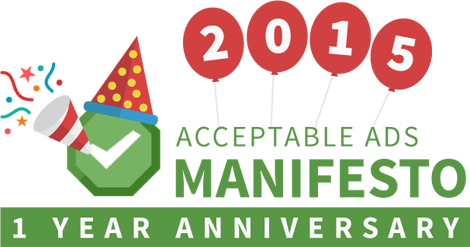 When we launched the Acceptable Ads Manifesto one year ago in partnership with Reddit, Customer Commons, PageFair and the Anti-Advertising Agency, our goal was to distill the ideals of non-intrusive ads into a single document. It was to be a guiding principle for how we can collectively make online advertising better. And we wanted it to endure.
Of course, it was also a call to arms for others to join the cause and contribute to the collective vision. So we are pleased to announce today that the number of signees to the Manifesto has more than tripled over the past year. Apart from the number, however, it's the diversity and importance of the signees that is especially pleasing.
The first armada of additional signees came from small organizations with disruptive ideas, like the Data Roads Foundation and Blue Husky Studios.
Following that, we were all psyched when the venerable Art Directors Club said they wanted to sign on for better ads. The participation of the ADC validated our belief that even those with a direct investment in advertising revenues understand that the current landscape for online ads in untenable and are able to see the benefits of our manifesto's long-term view.
In this same vein, the newest members to sign are German-Polish ad agency Jung von Matt + 180 Heartbeats and American native ad pioneers Sharethrough. Jung von Matt joined with its Polish affiliate 180 Heartbeats, bringing an innovative creative company that competes at some of the biggest festivals in the world. While Jung von Matt focuses mainly on print publications, Sharethrough is a fast-growing authority in how ads can get better online – specifically non-intrusive native ads for mobile screens.
The fact that these two advertising firms are participating in the Manifesto does not mean that all of their ads fit into our Acceptable Ads criteria (yet), and therefore their ads are not automatically whitelisted by Adblock Plus. But they are aligned with the goals of the Manifesto and committed to making ads non-intrusive and better for all. And lest we forget, that's the point: a conversation and commitment to better ads.
We were happy and humble to get Fight For the Future on board – if anyone has been paying attention to the important fight for Net Neutrality in the US, you've probably heard of these guys. They've been on the front line and we all owe them a debt of gratitude for their efforts here.
Finally, we recently added the developer community of Stack Exchange, and will very soon add the next large community of programmers to the manifesto when Developer Media joins (should be a week or two).
What does it all mean?!?!!
We can't speak for all the signees, but it would seem that online ads are indeed broken. The uplifting part is that it also appears that there are groups from all over the place who share a meta-sized vision for fixing them.
Disclaimer: The Acceptable Ads Manifesto is a vision for better ads. While it stands in line with our Acceptable Ads initiative and whitelisting program, the two are separate.

Commenting is closed for this article.