Fake news. Information Disorder. Disinformation.
It's not new. Fake news has been around since politics began, and propaganda is as old as war itself. What is new is the technology that we use on a daily basis. Disinformation spreads faster with more reach because of the power of the internet.
At Adblock Plus, we love the internet. That's why we pour our energy into making the internet a better place for you, the user. Blocking bad ads is a good start, as clickbait for ad revenue is one of the main reasons that fake news is so popular. However, it's clear that we need to do more to keep internet users free of the modern menaces we see on the web.
Introducing Trusted News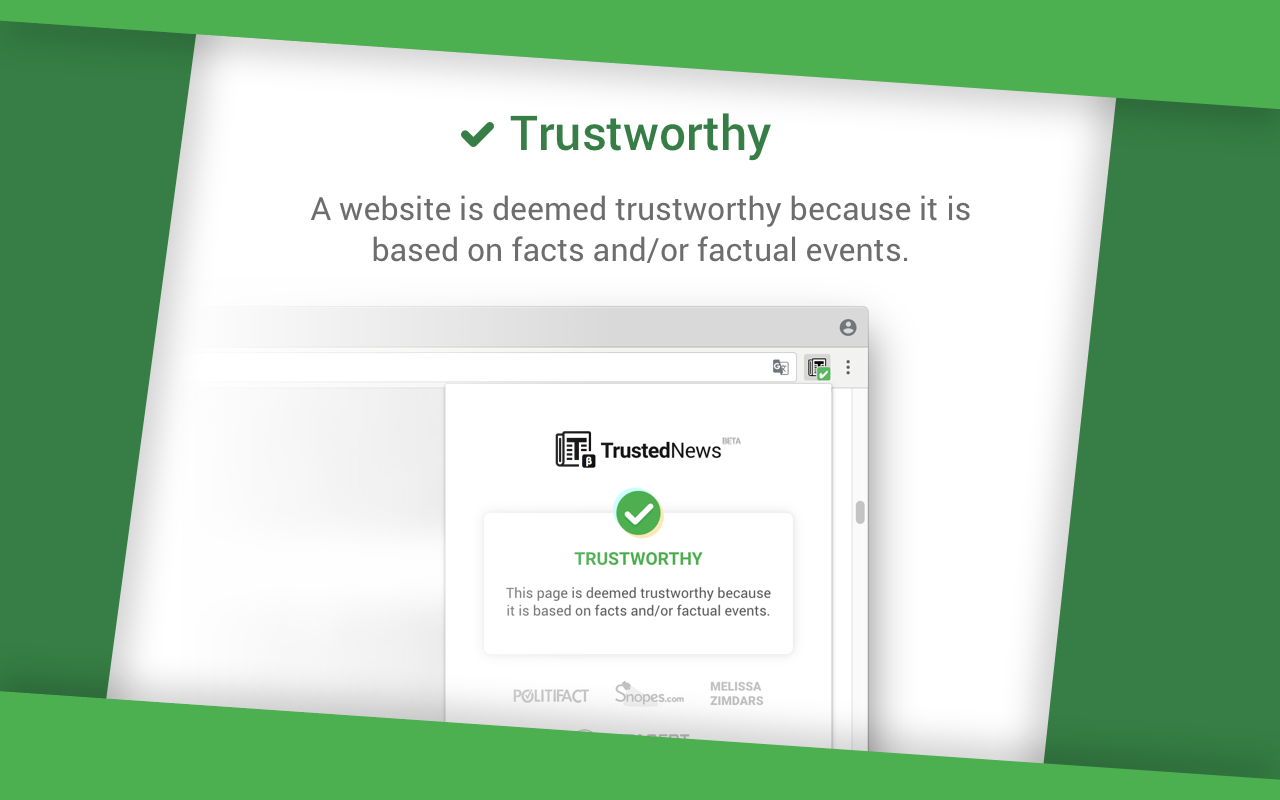 Trusted News is our first step in the quest to fight disinformation. It is a simple browser extension (like Adblock Plus). It uses Metacert's database of fact-checking websites to rate the trustworthiness of news websites. We designed Trusted News to be impartial, we don't want to get involved in politics. Trusted News uses a simple traffic light system to alert you to the rating of a news website. It's up to you to decide whether to continue reading.
The extension flags news websites in a set of categories: Trustworthy,
Untrustworthy,
Satire
Biased
Malicious
Clickbait
User Generated Content
Unknown (in cases where we can't get enough information about a site)
It's completely up to you if you keep reading the site, but you can now do so with more confidence.
If you disagree with the rating, you have the opportunity to give us feedback. We are not trying to make any political statement or change your behavior. We are looking for a way to help you think critically about the sites you visit.
It's also important to know that this is a "beta" product for now, and only works in English-speaking countries. We need help from our users and data providers to make Trusted News as powerful as Adblock Plus. We hope that you will join us on this journey.
One final note: You know that at Adblock Plus we have total respect for user choice and user privacy. We are not interested in your personal data and Trusted News will never collect any information from you. We want to make a difference on the internet, and would love to have you involved.
If you want to try Trusted News, go here. If you want to know more about the technical side of things, you can read Mario's post here. Finally, if you would like to know more about the history of the project, and the vision behind it, read Aaron's post here. As always, we welcome any feedback or criticism.

Commenting is closed for this article.