It's not what you're thinking.
The University is British Columbia's Simon Fraser University, where students tested Adblock Plus on a live department network and measured enormous (25 to 40 percent) reductions in IP traffic when Adblock Plus is installed on the endpoint computers.
The LSD Project is our Large Scale Deployment project, through which we developed the Adblock Plus for Administrators feature. We started including this a few weeks back in the latest update for Chrome. This feature lets network admins easily deploy Adblock Plus across large scale networks, like those found in universities, schools and companies of all sizes.
Simon Fraser University published the results of their research in a report entitled Adblock Plus Efficacy Study, which demonstrated that installing Adblock Plus on network endpoints saves bandwidth — 25 percent bandwidth savings by blocking web-based advertisements and 40 percent bandwidth savings when also blocking video trailers.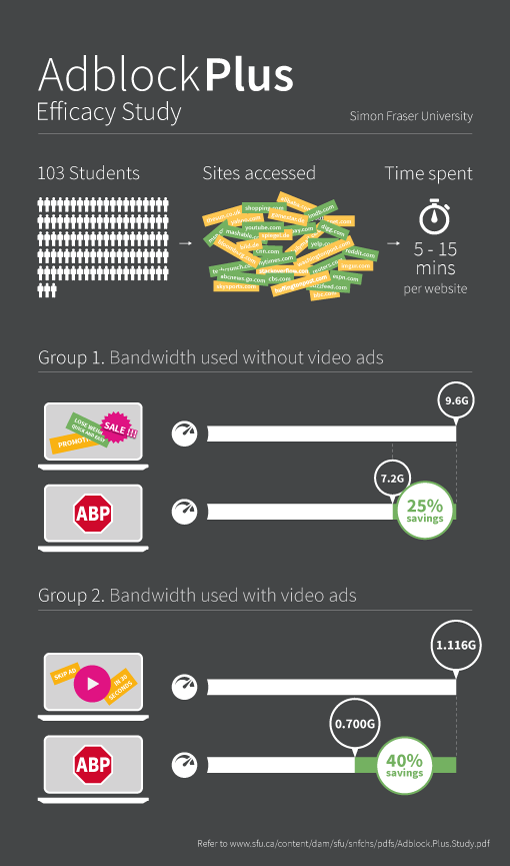 Research methodology
The research study was conducted from March 15, 2015 to May 1, 2015 with 103 students participating. A portion of the university computer network was configured with computers divided by those running Adblock Plus and those without Adblock Plus. All computers were part of a flat network with gateway provided by a Palo Alto VM-100 firewall. The Palo Alto firewall provided application layer visibility into network traffic. Since all traffic traversed the firewall this methodology provided extremely accurate data analysis on the type and volume of traffic. Students were instructed to surf among a designated basket of URLs (see infographic above), mimicking how they would perform research for a paper or casually surf. They were required to spend at least 5-15 minutes on each site.
Computers running the Adblock Plus browser extension saw a 25 percent decrease in associated total data usage during web-browsing sessions. The trend was even more pronounced when http-video sessions were taken in isolation; computers running Adblock Plus revealed a cumulative 40 percent decrease in total data usage.
The research study concluded (as we expected) that by filtering out online advertisements Adblock Plus significantly reduced network data usage.
Other benefits of running Adblock Plus on large networks include:
mitigating instances of malvertising and other security risks
decreasing employee/student distraction
We've always assumed that Adblock Plus makes your network faster, and now we have some proof that it does.

Commenting is closed for this article.