As you can see below, we've written this post in Spanish. We typically publish in English, and have made this exception because a Spanish publisher called Atresmedia started to force its users to turn off their adblockers in order to view certain content. Our open source community has since found a solution, and we wanted to inform our Spanish speaking users.
Ayer, varios de nuestros usuarios se pusieron en contacto con nosotros a través de Twitter para notificarnos que el grupo de comunicación Atresmedia había comenzado a mostrar un mensaje pidiendo a los usuarios de bloqueadores de publicidad que lo desactivaran si querían tener acceso al contenido de cualquiera de sus videos o del reproductor en directo.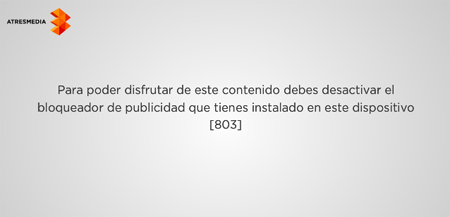 Gracias a los avisos recibidos y a la comunidad de usuarios que mantiene EasyList, la principal suscripción de filtros para Adblock Plus, se han creado rápidamente los filtros necesarios para poder acceder al contenido de los videos del grupo Atresmedia sin tener que desactivar nuestra extensión.
Este juego del ratón y el gato puede alargarse días o meses dependiendo del caso, ya que cualquier miembro de nuestra comunidad de usuarios puede encontrar nuevos filtros de desbloqueo. Es una de las ventajas de usar código abierto: cualquiera puede contribuir a la mejora de Adblock Plus.
En cualquier caso, creemos que ir en contra de los deseos de los usuarios y forzarles a cambiar la configuración de su ordenador es un error. La capacidad de elegir del usuario debe estar por encima de todo, incluyendo cómo y cuándo usar el bloqueador de publicidad o cualquier otra configuración de su ordenador. Nosotros abogamos por el uso responsable de Adblock Plus, pero dejamos en manos de nuestros usuarios la decisión de qué bloquear y dónde.
La solución no es forzar al usuario a ver contenidos que no quiere, sino apostar por un modelo de publicidad online que sea menos agresivo y más responsable.
Actualización 01-07-14: Tras haber sido bloqueados de nuevo, se han actualizado los filtros necesarios para volver a desbloquear los videos y el reproductor de Atresmedia. Si estáis teniendo problemas, no dejéis de comentar este post o poneros en contacto con nosotros, por ejemplo a través de nuestra cuenta en castellano en Twitter

Commenting is closed for this article.