We are pleased to announce the launch of Adblock Plus version 3.3 with several bug fixes and improvements included. The big news is that Adblock Plus 3.3 takes aim at the anti-ad blocking technology that more and more sites are employing. With the fight against anti-adblock companies (whose sole purpose is to circumvent your ad blocker and shove ads at you anyway) getting more aggressive every day, Adblock Plus is countering that by shutting down the anti-adblockers.
Just as we worked hard to stop Facebook from continuing to serve ads against your wishes (over one year and counting now), we'll always work hard to protect and serve your right to an ad-free experience. Shutting down the anti-ad blockers is a logical next step in our continued fight for users.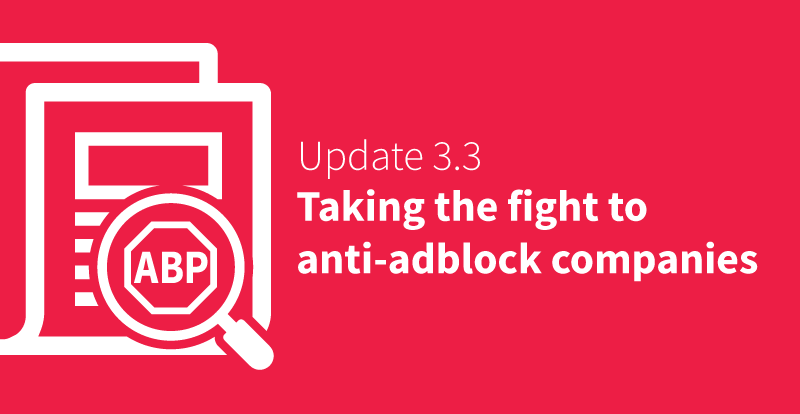 As you might have guessed, we strongly and fervently believe in a user's right to block any and all ads they choose. If you use Adblock Plus, you shouldn't have to spend another second worrying that ads will still be shoved in your face because a website is using anti-ad blocking technology . We think that kind of technology goes against users' wishes and should be stopped.
Adblock Plus stands with you and supports your decision to block all useless and irritating ads.
Adblock Plus version 3.3 is available for Chrome, Firefox and Opera users.

Commenting is closed for this article.