Adblock Plus 3.8 for Chrome, Firefox, and Opera has been released.
Welcome to 2020! The crew behind your favorite ad blocker is hitting the ground running with a new Adblock Plus release.
So, what's new?
It's no secret that ABP blocks bad ads. But what about the ads that your favorite content creators rely on for revenue? We've always been pretty candid about the idea that great content creators should be able to make a living doing what they love. But, if you're not using ABP's Acceptable Ads feature, how can you support these creators without completely turning off ABP?
We've got a solution for that.
ABP has a nifty toggle that allows you to easily and quickly turn off the ad-blocking software on sites that you want to support. This means that ABP will work as it normally does, but you'll see ads on the sites that you choose to whitelist.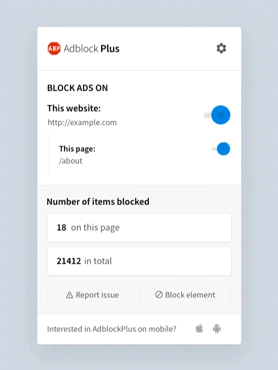 This has been an ABP feature for some time, but until this new release, the feature only worked on a domain-level, meaning if you wanted to view ads on a single page to support a particular content creator, you had to whitelist the entire website.
Adblock Plus 3.8 now allows users to turn off ABP on individual pages, which gives you greater control over what pages you see ads on (if you choose to see ads at all). You now have the option to pick and choose which pages you whitelist in addition to which domains you whitelist.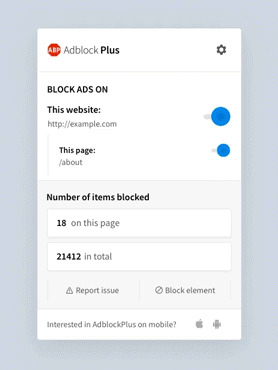 This feature is also helpful for users who sometimes experience issues with ABP "breaking" a webpage. If you think ABP is breaking your favorite site, simply use the whitelist feature and then report the issue to us via the Issue Reporter.
And speaking of the Issue Reporter, we've made it easier to report all types of issues to our Support team. Until now, the Issue Reporter only handled issues related to ABP blocking too much or too little. Now, if a user experiences an issue that isn't related to blocking ads, they can click the new link and message our support team directly.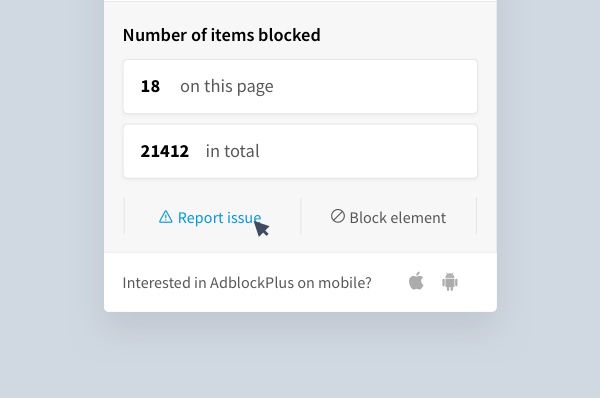 Several other changes and improvements went into this release. For a complete list including links to each ticket, check out the release notes.
Adblock Plus 3.8 can be downloaded directly at adblockplus.org, via the Chrome Web Store, via Firefox Add-Ons, or via Opera Add-Ons.
Love ABP? Give it a 5-star review! Chrome Web Store, Firefox Add-Ons, Opera Add-Ons

Commenting is closed for this article.