Adblock Plus has some very good relationships within the IAB (Interactive Advertising Bureau), which is the trade organization that represents advertisers and publishers. We coach many IAB members about our Acceptable Ads guidelines for reasonable, nonintrusive ads, and we have spoken on some IAB panel discussions (especially in the UK).
Unfortunately, the top brass at the US IAB don't want us coming to their Leadership Summit next week in Palm Desert, California. We attended last year, and we signed up again for their 2016 meeting … including paying the hefty entrance fee. We were fully confirmed and they even listed us on their website as a participant.
Then this week we got one of those sudden emails that land in your inbox innocently, then floor you with something weird, unbelievable or ridiculous when you click on them. This one came from an unfamiliar IAB address, and it informed us that our registration for the summit was canceled and our fee refunded: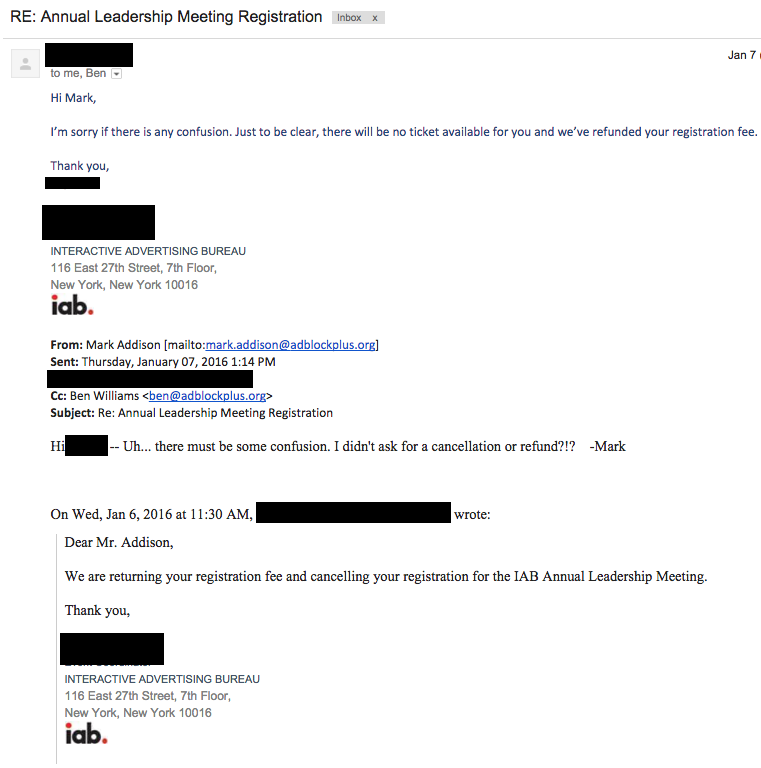 In about five minutes of email exchanges with colleagues, I/we went through something similar to the five stages of loss. No, wait, actually I just experienced the first stage, denial … I mean, does this make sense?
Like dis-inviting us will make the problem somehow go away! We contacted the IAB's CEO Randall Rothenberg directly to ask him to reconsider this decision, and we got … crickets …
Sadly, if the leader of the largest advertiser trade organization does not have the cojones to allow dis-senting voices to be heard, then he does so at his own peril. Ad industry pundits have blamed themselves for the meteoric rise of ad blocking, and some of IAB's own lieutenants have called for Rothenberg's resignation. We're beginning to see why.
In a notable (and noble) confession, one IAB executive even went on record saying "we messed up" by allowing online advertising to become overly aggressive, and thus helping to fuel ad blocker installs.
The over 400,000,000 downloads of Adblock Plus are not going to "go away." Dis-allowing Adblock Plus from attending your event solves nothing. We will proceed to work with others to build a sustainable monetization model for the Internet.
As always, you know where to reach us.

Commenting is closed for this article.