There is a growing pile of survey research out there documenting the inexorable rise in ad blocking and the supposedly dire revenue consequences to advertisers and publishers. So when the research folks over at HubSpot asked us at Adblock Plus to let them survey our customers for some new research they were doing, we just rolled our eyes – at first.
But HubSpot's aim was on point: they wanted to break some new ground and explore the reasons why consumers block ads – and most importantly, what advertisers and marketers should do to balance users' rights against the need to monetize content and support a free web. Now that's more interesting.
So, we agreed to the survey if we could add a few of our own questions: we at Adblock Plus wanted to learn more how we could also help solve the dilemma – as we've said many times, we don't hate all advertising, just the really of obnoxious stuff. And what the survey results showed us is that there are two "ecosystems" of online users – those who block ads and those who don't. Solving the dilemma means finding a way to reach the ad blocking audience on their terms, as well as finding some viable alternative ways to monetize content creators. That's good news, because between our Acceptable Ads guidelines and our Flattr Plus project, Adblock Plus is already making progress.
HubSpot's survey included 1,055 respondents globally, with 70 percent being users of an ad blocker (not just ours) and 30 percent being non-users.
Links to the full report
If you just want to skip to the full report, you can find it here, along with an excellent summary of recommendations that HubSpot wrote for their audience of marketers.
More into slides? Here you'll find 34 of those.
As for the survey questions, here are a few gems: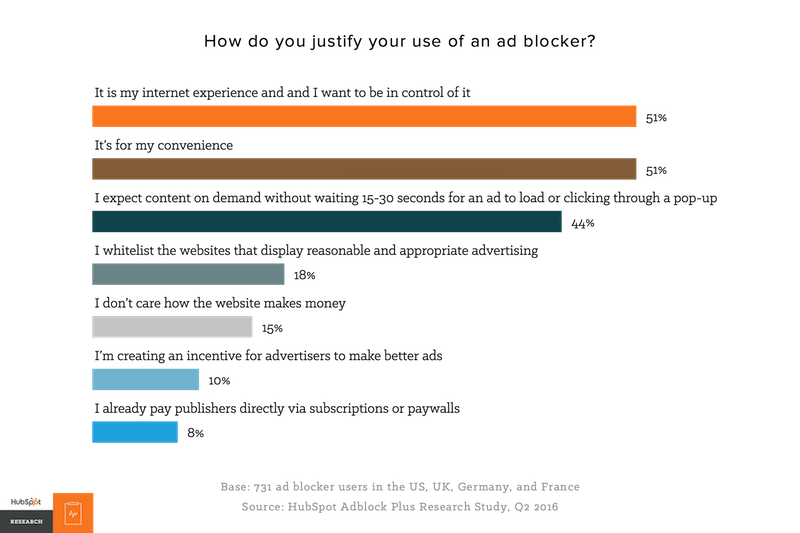 Yup, we really asked this question. Fact is, most consumers realize the web can't be free without some commercial support. But they don't like the flagrant abuses that advertisers and publishers have justified for themselves. Now, because of ad blockers, consumers have regained some control. So the solution to the ad blocking 'dilemma' is to prove to the controlling party (that'd be users btw) that you have a reasonable and consumer friendly method of commercialization.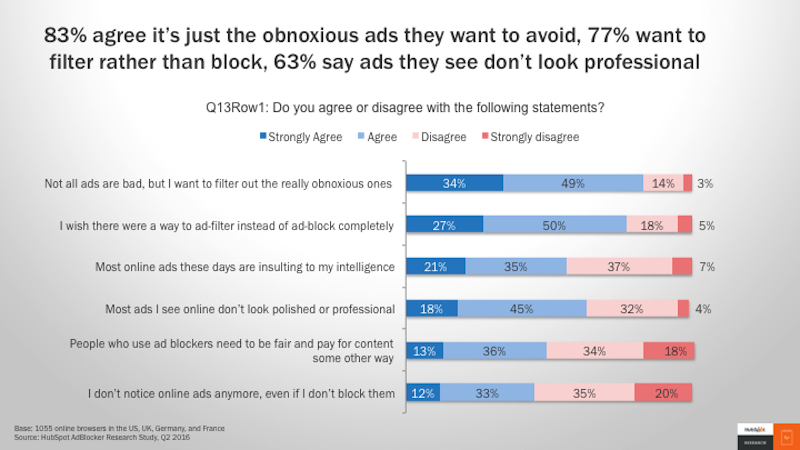 The results prove that most consumers really are pretty reasonable! Even with ad blockers, there is still a large role for advertising to help fund web content – if done right. But it's not the only way; there can be donations and micropayments and alternative ways to support content creators that haven't yet been invented.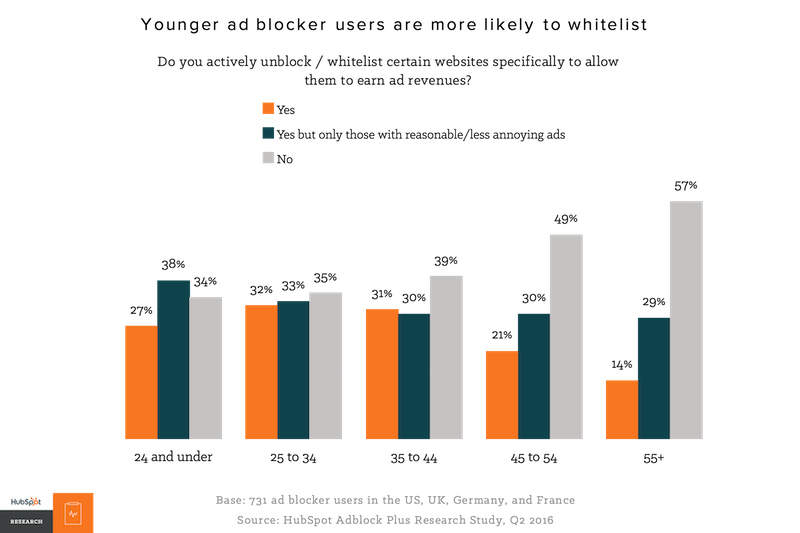 These results are good news for advertisers and publishers, and a huge vote of confidence for the Acceptable Ads guidelines that we've been advocating since 2011. The ecosystem of ad blocking consumers is not totally off limits to advertisers, but they will need to regain consumers' trust. This is the entire point of Acceptable Ads – finding the best way to build a bridge across the unfortunate chasm between users and advertisers.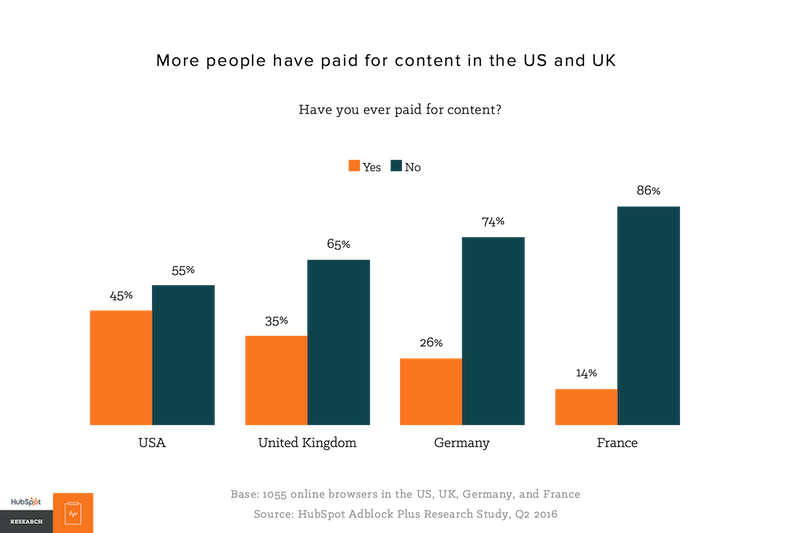 While some older consumers are probably lost forever, younger users are willing grant sites with reasonable advertising access to their attention and real estate on their screens.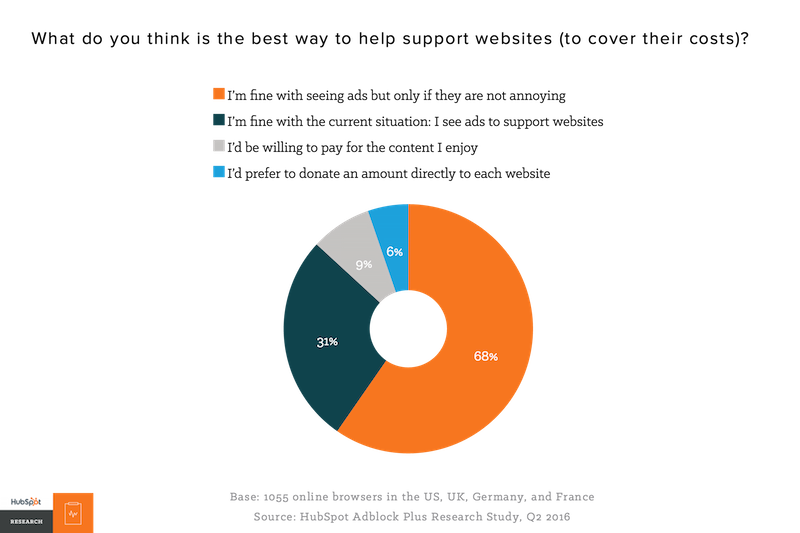 Ahhh … the billion-dollar question. If consumers don't want to let advertisers pay the freight, then are they willing to step up and pay for content directly? In the US, it looks like the answer is "yes," but are users in France just shit out of luck? Well, no, not really. Two reasons: even a small group of users funding content would supplement ad dollars immeasurably – and diversifying publishers' monetization might lead to fewer ads and less reliance on overloaded, obnoxious ones. Second, we're all just waiting on the right solution. Imagine if you make it easy for users to fund content, and only one-tenth of our active users pledge $5 per month? That's 10m users/devices times $5 … and that's only a fraction of a fraction of the web. There is no one-size-fits-all solution. It's going to take some experimentation and reasonable cooperation (that means you, IAB) to reinvent/reinvigorate the monetization model for the web. Our partnership with Flattr Plus is just one alternative approach, and we don't even need total adoption to significantly lift publishers' bottom line.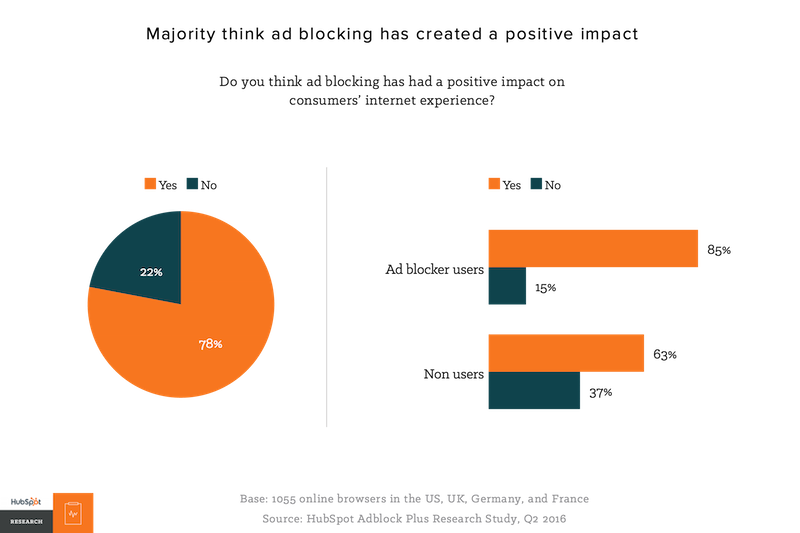 Nothing makes us more proud than this result. Before ad blockers became prevalent, consumers were powerless to signal their vote and fight back against abusive advertising practices. While we do get the odd piece of hate mail from disgruntled ad execs, we get our fair share of love letters too. We started out 10 years ago as a small open source experiment, and today we are helping to reshape the multi-billion dollar advertising industry. And guess what? So far it's working out.
To conclude, we applaud HubSpot for conducting a thoughtful and meaningful survey and we hope to cooperate with other groups that want to actually solve the problem of abusive online advertising and push the web forward.

Commenting is closed for this article.