You know how you're able to see that someone has "seen" your message on Facebook? If you've ever wanted others not to be informed about when/if you've read their Facebook messages, Adblock Plus has a new solution for you.
Just click HERE (and then click Add) to enable it automatically; read on for an explanation.
By displaying the "seen" message you know that the person you've sent the message to has read the message. Take the example below: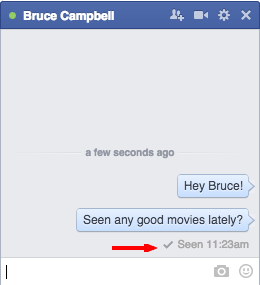 But what if you don't want them to know you've read their message? Why? Well, to use the example above, let's just say that Bruce is my boss. And it's Saturday. Maybe in response to my innocent question he thinks of something I should do, and instead of responding with helpful film hints he asks me to work.
Bummer, right? Well, if I have this feature enabled Bruce never knows if I've read his message or not:
Notice that Bruce above does not see that I've read his message – but I have! So I can go out and watch a new flick and Bruce is none the wiser. Nifty, eh?
Want it too? To enable it automatically simply click
For those interested in the back story, the following filter is being added to your Adblock Plus preferences when you click there:
||facebook.com/ajax/mercury/change_read_status.php$xmlhttprequest
Have fun!

Commenting is closed for this article.