Adblock Plus recently commissioned a survey in collaboration with market research firm Ipsos. In all, 6,000 people were surveyed in the US, Germany and France about what they think about specific ads … and the findings were exactly what we would have imagined.
Full results of the survey can be found here:
The results validated what our users have told us for years: formats like search, text and banner ads that don't get in the way are fine. As will come as a surprise to precisely no one, formats like wraparound banners, animated banners and pop-ups were consistently graded as "disruptive." The slide below shows the US disruption level for each of the 13 types of ads.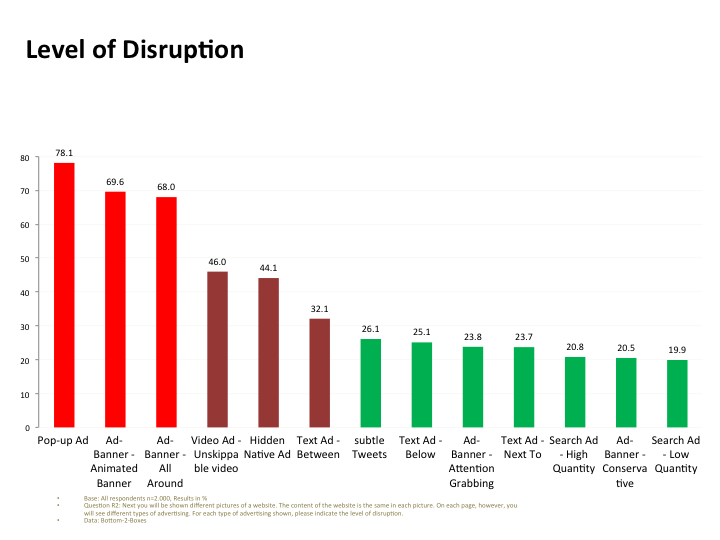 Here are a few of the takeaways from the study (although I really recommend you dive in yourself).
Ad annoyance knows no borders: in all three countries users consistently found pop-ups, video ads, animated banner ads and "all-around" banner ads the most annoying formats. By contrast, they did not find text, search or "conservative" banner ads disruptive.
The terrible two: "all-around" banner ads and pop-ups. When individual rankings were figured, 63 (US), 65 (Germany) and 73 percent (France), respectively, ranked these as their top two most disruptive formats.
"All-around" banner ads, animated banners, pop-ups and video ads not only scored low – they got the absolute worst score more often than any formats. These types of ads got a "disruption score" of over 90 percent more than any other types.
Search, text and conservative banner ads not only scored high – they got the best score: These type of ads consistently received a "disruption score" of less than 5 percent.
How it was conducted
There were two parts to the test. Part one just asked people what they thought about each of the 13 types of ads successively on a scale of 1 to 6, with 6 being "very disruptive" and 1 not "at all." The second part established a weighted score for each ad format tested on a scale of 0 to 100, with 100 being "very disruptive" and 0 not "at all." The results of the two parts were very similar.
The research firm conducted the study as an online questionnaire in October and November. They surveyed sample populations of around 2,000 participants each in the United States, France and Germany.
Why it was done
Adblock Plus sponsored the three surveys to solidify the criteria used by the Acceptable Ad program, which will soon be managed by an independent committee. In the coming weeks, we will announce improvements to the Acceptable Ads criteria that make them easier to enforce, easier to understand and more transparent. Moving forward, the independent Acceptable Ads Committee will handle any changes to the Acceptable Ads program. These improvements will help them start their job out on the right foot.

Commenting is closed for this article.