Less than one week out from the US election, we thought we'd use an election-year staple – the fact checker – to confront head-on some of the things that have been said about us. Typically, when the IAB or others make crazy accusations about us, we try to take the high road and not respond. But we felt it was time to set the record straight on some core truths.
Everything we do, and every product we introduce, ties right back to Eyeo's core mission of empowering users for a sustainably free web. So it's important for our loyal users to understand the reasons for our actions, especially when our critics are telling slants, spins and downright lies about us.
Plus, fact checkers are just fun – so here we go!
#1
Spurious statement #1: The criteria for what makes Acceptable Ads are murky and "lack transparency."
Fact: Anybody claiming this statement is just lazy. A five-second web search for "acceptable ads criteria" or "acceptable ads" gives you three links right at the top that take you directly to the answer.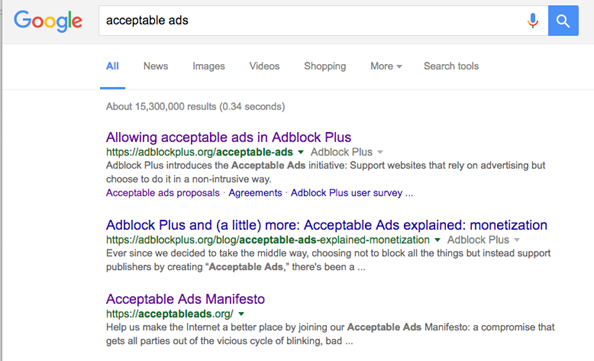 #2
Spurious statement #2: Companies can pay-to-play to be added to ABP's whitelist.
Fact: No, no and no. Not even a $Bazillion dollars can buy your way past ABP's blocking filters. We created the whitelist to help well-meaning websites stay in business – but the only way to be considered for the whitelist is to submit an application that's recorded in an open, public forum, then verify that the ads you'd like to whitelist all comply with the Acceptable Ads criteria. It costs exactly $0 for most companies to be whitelisted, but we do ask that very large companies support the whitelisting community by paying in a contribution. In full transparency, we explain exactly who pays and how much in three different places right on our website:
1) Homepage > About (in the menu there's a dedicated link, How are we financed?)
2) Homepage > Configurable (in the 2nd bullet next to the video)
3) Homepage > Acceptable Ads (in the resources footer)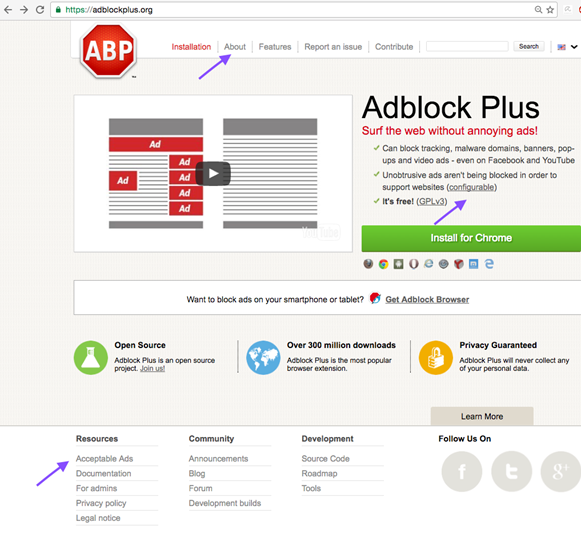 #3
Spurious statement #3: Eyeo is secretive about which companies are on their whitelist.
Fact: Not at all. Just look at the public forum linked to on our homepage where we list them all.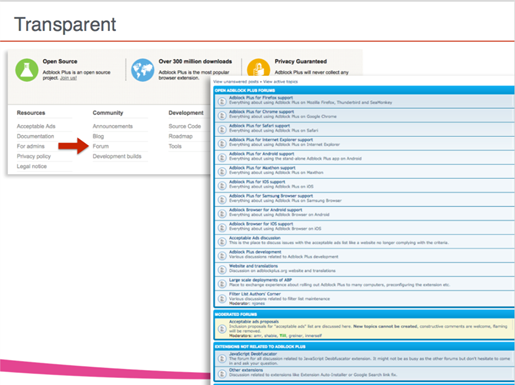 #4
Spurious statement #4: Adblock Plus now sells ads.
Fact: Nope, not even close. Even a peek at our press release or casual read about our new certification tool shows that it simply allows publishers to whitelist ads faster while ingeniously making sure they meet the Acceptable Ads criteria … we absolutely do not, and will not, sell ads.
Our mission is to empower users to keep the web free – that's why we encourage partial ad blocking. Out of the box, Adblock Plus comes with whitelisted ads enabled. It's your choice to turn it off if you want, but we think it's better to let well-meaning ads through. But selling ads? No way.
#5
Spurious statement #5: Adblock Plus is extortion.
Or, as IAB president Randall Rothenberg put it at speech at the 2016 IAB Annual Leadership Meeting: "For that is what Adblock-Plus is: an old-fashioned extortion racket, gussied up in the flowery but false language of contemporary consumerism."
Fact: No, Randall, you're wrong. Consumer dissatisfaction with an advertising industry that forgot them has driven hundreds of millions to download ad blockers. For our part, we at Eyeo encourage a middle-ground stance toward advertising, and we're working with users to perfect a system to make partial ad blocking a big piece of a complete cure. That is not extortion. All of these outlets agree with us:

Commenting is closed for this article.