I recently released Adblock Plus 1.0.2 to fix a regression that would affect any user upgrading to Firefox 3.0.9. In the end, Adblock Plus upgrade was released only six days before Firefox 3.0.9 and the big question is of course — was that enough time? How many users ended up using the new Firefox release with an outdated Adblock Plus version?
Unfortunately, AMO statistics don't allow correlating add-on versions with application versions so any estimates will require a fair amount of guessing. Also, AMO will show only absolute active daily users numbers which are hard to interpret due to strong day-to-day variation. I am more interested in "what percentage of my users upgraded on day X?" So I used gnuplot with AMO data to create a more useful graph: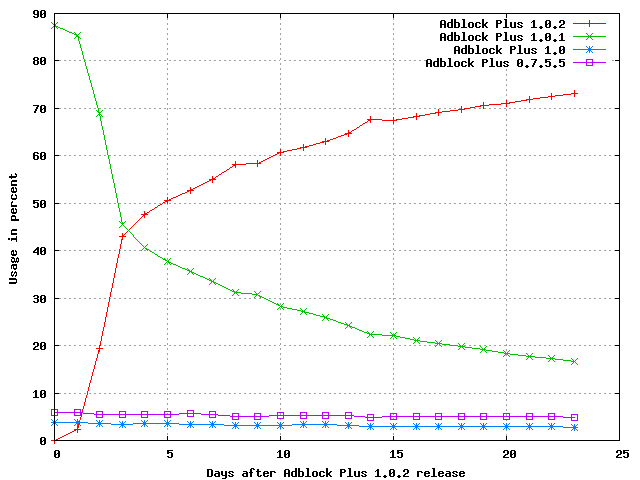 Important findings:
45% of the users upgrade within 3 days of the release. After that the upgrade rate slows down considerably, it seems that it takes around two months to upgrade 85% of the users.
There is still a considerable number of users with Adblock Plus 1.0 (newer version arrived four months ago) and even Adblock Plus 0.7.5.5 (newer version arrived five months ago), that percentage barely gets smaller. So it seems that 10% of the users have extension updates enabled (they wouldn't show up in the statistic otherwise) but ignore updates and will only update when they install a new major Firefox version because the old extension version will no longer be compatible then.
Firefox releases have a negligible effect on extension updates. This one came as a surprise given that the download numbers increase every time a new Firefox release comes out. However, the two bumps from Firefox 3.0.9 and Firefox 3.0.10 releases are barely noticeable and don't seem to have any real effect whatsoever.
And what about the Firefox versions used by Adblock Plus users? Here comes another graph for the same period of time: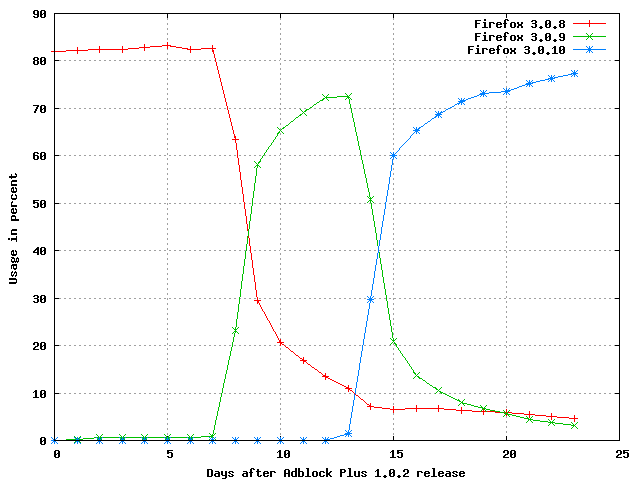 Important findings:
Adblock Plus users upgrade Firefox considerably faster than they upgrade Adblock Plus. 60% of the users upgraded in the first three days, and Firefox 3.0.8 is used by only 6% of the users two weeks after a new version was released.
Right now, almost 80% of the Adblock Plus users already use Firefox 3.0.9 and Firefox 3.0.10. However, only 70% of them use the latest Adblock Plus version. This means that at least 10% of them experience a regression in Adblock Plus functionality. To prevent this, I should have released at least a month earlier (but the issue wasn't even found at that time of course).
Interestingly, it doesn't look like Adblock Plus users are more likely to install minor versions of Firefox than average Firefox users. According to a recent study, the percentage of Firefox users running the latest release never exceeds 85%. That's almost the same percentage as what you see in the graph above. However, around Firefox 3 release I noticed that Adblock Plus users installed the new major release considerably faster than average Firefox users — apparently, add-on users are only early adopters when it comes to major releases.
Luckily for me, changes in minor Firefox releases that break extensions are very rare (as far as I remember, that's the first one ever that affected Adblock Plus). But it does make me think what can be done to make sure users upgrade sooner in cases like this. What if I change the compatibility info for version 1.0.1 on AMO to mark it as not compatible with Firefox 3.0.9/3.0.10, will it eventually give users some useful notification if they have it installed in Firefox 3.0.9? I guess Adblock Plus will show up as incompatible next time they update Firefox — and Firefox will offer searching for updates.

Commenting is closed for this article.