You can now customize Facebook with Adblock Plus. Under default settings, ABP blocks all Facebook ads – sponsored stories, page post ads, standard ads, promoted posts or otherwise. But there are other unneeded, potentially unwanted elements that insert themselves automatically into your news feed and sidebar. Now you can block these too.
These elements include reminders, say, for a ping pong tournament in your building or a forthcoming 80s night at a nearby bar. They also include "People you may know" and "Games you may like" in the sidebar and "Upcoming events" in your news feed.
They are not advertisements. Rather, this material is actually from Facebook, and it is served to you based upon the information Facebook receives from your profile and activities.
Keeping track of these annoyances is a tall task. Our new feature makes blocking them easy. You can either: block all annoyances; block only sidebar annoyances; or block only news feed annoyances.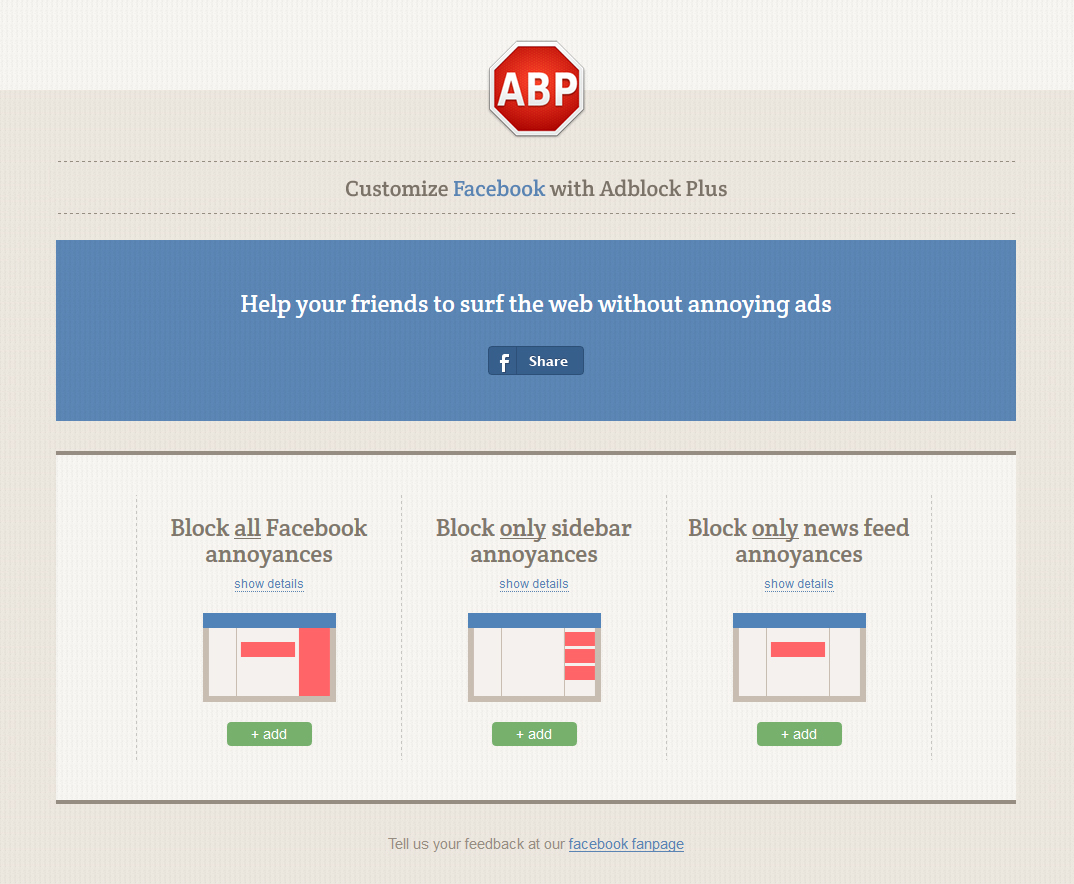 Click facebook.adblockplus.me to choose which of these elements you'd like to block.
We built this feature because it allows you to individualize your Facebook experience. If you find all these elements annoying, blocking them is now easy. But you might like some and not others – this gives you the right to choose.
Here is an entire list of elements that our new feature will allow you to block:
Music Pages You May Like
Entertainment Pages You May Like
Add to Movies
Add to TV Shows
People You May Know
Rate To Add To Your Movies
Rate To Add To Your TV Shows
Rate Books You've Read
Rate These Places
Get Important News
Recommended Pages
Rate Movies You've Watched
Add to Movies
Add to TV Shows
Rate TV Shows You've Watched
Suggested Groups
Friend Finder/Find More Friends
Games You May Like
Play It Again
Suggest Friends
Nearby Places

Abdullah Hafiz Hakimi · 2013-10-25 01:25 · #

facebook

Michael Blankenship · 2013-11-14 00:43 · #

I am trying to install the customizable Facebook page addon, but it keeps telling me I need to install Adblock plus. Adblock plus is installed and running, but when I select which annoyances I want to block at facebook.adblockplus.me it pops up with the window saying I need to install Adblock plus. Is it not compatible with version 1.1 for IE? Please help.
Commenting is closed for this article.