It is one thing for Adblock Plus to write a blog espousing the wonders of our product. But when we have an opportunity to talk about a third party coming to that conclusion, it puts a little extra wind in our sails.
According to a new study spearheaded by the University of California Santa Barbara, Adblock Plus is the best way to stop malvertising in its tracks. While 2014 has seen a surge of malvertising (online attacks that inject malware-laden ads into ad networks), Adblock Plus provides the last line of defense to help protect users from malware-carrying ads before they are even served. We've been advising users of this benefit for a while, and it's nice to know that now others are too.
The report, entitled 'The Dark Alleys of Madison Avenue: Understanding Malicious Advertisements,' concluded that: "Finally, the safest way for users to protect themselves against malvertisements is to utilize solutions like Adblock Plus to prevent advertisements from being delivered to their browsers." Conducted by an international group of computer scientists from UCSB, Germany's Ruhr-University Bochum and the University College London, the study analyzed more than 600,000 real online ads to find examples of malvertising. They found malicious ads in around 1 percent of the ads (6,601 incidents).
Doing what we do
Since January of 2014, over 5,000 filters that block ads that are potentially malicious were added to the base list used by Adblock Plus. That is a 15 percent increase in the amount of filters contained in Adblock Plus' EasyList. EasyList is run by the open source community and is a collection of filters that automatically remove annoying ads from the Internet.
Malvertising was big in 2014, may gain steam in 2015
We've seen a spate of malvertising incidents over the past year. There were the Yahoo/AOL attacks, assaults on the political front as well as strikes aimed at ad networks, the US military, and Amazon and YouTube. From all indications this attack vector is just too juicy for the Internet's ne'er-do-wells to quit … which is more than a little disheartening going into a new year.
The good news
Even though 2015's malvertising miscreants may indeed be hatching even nastier threats than the worst 2014 had to offer, there are a number of ways to protect yourself. For instance, malware protection software and our anti-malware feature are two other important defense mechanisms in a healthy repertoire.
Here at Adblock Plus we're happy to provide you with what we feel is the easiest, most direct tool to browsing malvertising-free.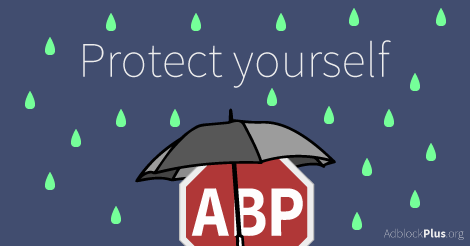 Commenting is closed for this article.