At Adblock Plus, we're all about user choice, and we're more than happy to see other companies champion this cause. Apple's recent announcement at WWDC 2018 that they are taking a hard line on social media tracking is great news for users, and a slap in the face for unscrupulous companies that value data above all else.
If you're not an Apple customer, or if you can't wait until September to block social tracking, you can always use Adblock Plus. To block social tracking, click here, then click "open this dialogue." You can also click here, then click "Subscribe: Fanboy's Social Blocking List." Here is a browser-specific guide for installation if you're still having trouble…
So what's the big issue with social media tracking, and why are Apple and Adblock Plus so gung-ho about blocking it? Well, like buttons, share buttons and comment fields placed on websites allow social media companies to track you whether you click on them or not, and even if you are not logged into a social network.
Click to play this video. Please note that this video is hosted by YouTube. When this video is played, some personal data is transferred to YouTube. For more information, please review YouTube's privacy policy.
In an unprecedented move, not only will Apple block this shady practice, but they will also notify users when a site is offering up your data to Facebook. This will hopefully highlight the scale of the problem to users, but could prove controversial if users get peppered with notifications.
How do you feel about a new privacy feature?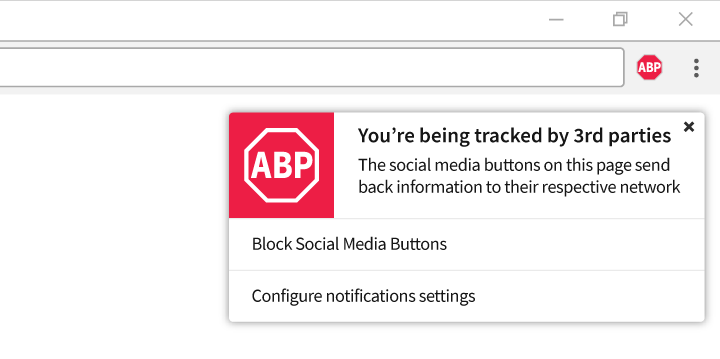 Would you like to see Adblock Plus notify you when a site is trying to track you? Blocking Facebook and other social media companies is a special feature that you have to activate (see above). Even if you know about this feature, millions of your peers do not. Should we look into building this feature? Let your voice be heard here.

Commenting is closed for this article.