Adblock Plus reveals insights into the whitelisting process.
Round about a year ago we published the first stats about our Acceptable Ads initiative, the movement we began in 2011 to encourage better ads. Since then the headline statistics in that blog have steadily increased. But numbers only reveal the surface. To get a deeper look, you need to examine individual members on the whitelist.
What is the process like from the inside? How do sites look before and after Acceptable Ads? Do they benefit from it? To shed light on these issues we asked a few random whitelisted sites for feedback and collected screenshots to illustrate specific changes.
The process
Whitelisting is a means to get Acceptable Ads on your website, and it begins when you apply. Your reasons can of course vary. For instance, Spanish site reviewsnewage.com contacted us after "noting that Adblock Plus could affect ads in our magazine." They wanted a way to get back readers without offending them with over-the-top blinking banners.
Once we've gotten to know one another on the the application, we start working together.
Then it gets interesting. During whitelisting, you're in touch with someone at Eyeo, the company that makes ABP, who will help assure that your ads abide by our criteria. This is a give-and-take process in which feedback necessarily flows in both directions. For instance, a site called Pop Culture-y wanted to whitelist the ad in the first screenshot below.
Before
Does it fit the criteria? It is static, doesn't scream for attention and is clearly labeled as an ad. Great, eh? However, it violated our placement rules because it interrupts reading flow. We let the site owner know, and they were happy to compromise; so the ad was placed above the title. Now Pop Culture-y is a whitelister.
After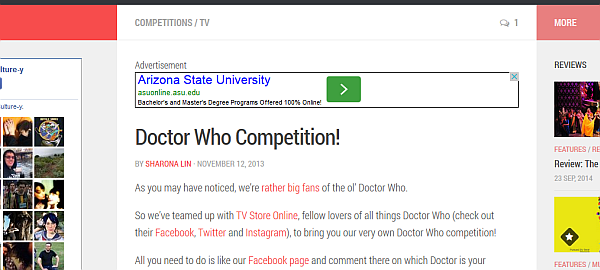 Sometimes it's even easier: the Russian site below didn't have to change a thing. It is clearly labeled, the placement does not obfuscate content, it's text-only and even features an opt-out! (The latter is not a requirement.)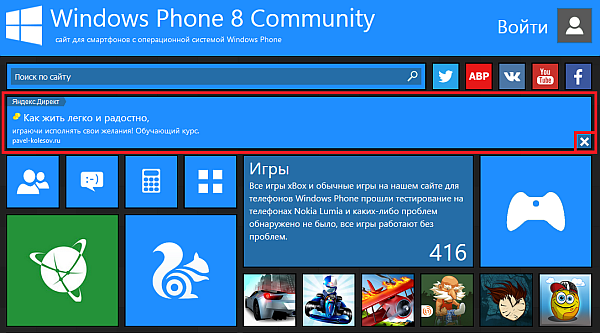 Of course, there can be snags. For Belarusian site banana.by it took two months even if the site owner was fully apprised of "the terms and conditions as a result of correspondence and discussion of emerging issues."
Banana.by needed to make more significant changes. For instance, the first screenshot below represents how a group of ads on the page looked before whitelisting (we've shaded the ads red to aid visibility). Even though there is a small label marking them "advertisement" they are not clearly separate from the content above them. This is a no-no, because readers do not appreciate not knowing where the content stops and the ads begin.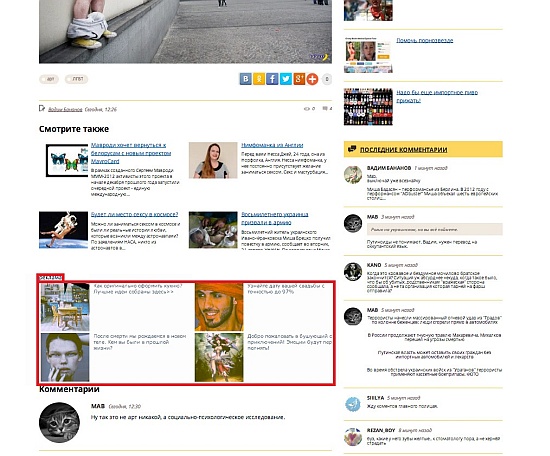 We suggested that they highlight the word "advertisement" more by shading it. Then we talked about how to make the boundary even clearer, and agreed on additional shading for each ad. Now, as you can see in the screenshot below, the demarcation between ad and editorial is obvious.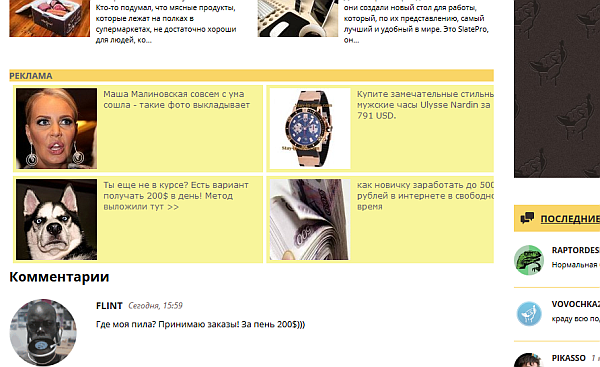 The best compliment we got regarding the process? The guy from Teneriffa News said that although he "had to change some things and positions for being whitelisted. It's kind of fun."
Fun … but is it worth it to you, the website owner?
Adblocking rates are apparently rising. Many websites depend on advertising to monetize their free content, according to the owner of reviewsinage.com. "It is definitely worth it for those sites to apply to Acceptable Ads."
Better ads can increase performance. When he first applied to be whitelisted, the owner of Teneriffa News needed to make some initial alterations to his site. When he did so, he commented that "these changes already improved the CTR [click-through rate]." Later, "when the whitelisting process was ready" the CTR increased again.
Another example of good performance comes from the whitelisted job ad below. On a German tech site, this ad for tech jobs (very relevant!) produced a 1.11 percent click through rate … in the ad business that rate is unheard of.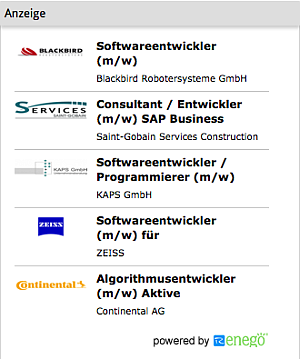 Finally, beyond any bottom-line benefit, some participants of Acceptable Ads just share our vision of a better Internet for their users. Several websites unilaterally write about their membership and display an Adblock Plus stop sign or Acceptable Ads link on their page. To that end, we've also had some important additions recently to our Acceptable Ads Manifesto, like the ADC and Fight for the Future.
So, yeah, it's gettin' better.

Commenting is closed for this article.